TnP Visual Workplace
TnP is all about for tailor-made solutions. We believe in the power of Visual Management, but not in standard solutions.
"Our main finding is that too little attention is often paid to the practical details of the Lean and improvement methods, which are too theoretical. Visual Management is more than a technique that can be used: Visual Management is a mindset."
A brand name
We are not a distributor, but a production company with our own brand of visualisation materials. This makes us unique in the Netherlands. Our materials are high quality, durable and have a professional appearance. Because we produce them ourselves, we are flexible and competitive in terms of pricing. We are expanding our product portfolio every week with new materials, based on customer requirements and market trends.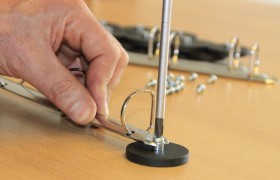 Tailor-made visualisation boards
Together with our customers such as you, we discuss the possibilities and we think about the final solution together, "a professional visualisation board." You make your wishes known and provide information about the final application; we contribute practical and user-friendly solutions. We also apply our knowledge of Lean and Visual management to get the best results.
Our graphics department will take account of your corporate identity to increase commitment towards your employees. Visual management has to be supported and backed, and "individuality" helps.
Our customers
We are proud to be able to say that our client list includes some big names.
Brainstorming?
We love to brainstorm about opportunities and solutions. Please contact us to find out what visual management can do for your organisation.