Mobile stands
TnP creates professional visualisationboards and tailor made stands according to your preferences. We believe in the power of Visual Management, but not in standard solutions. Together with you, we will discuss all possibilities and offer you the perfect solution. Let us know what your wishes are and than we will present to you a very userfriendly solution.
The mobile standards are made out of metal and will be delivered in 4 seperated components (one package). The standard consists of 2 De verrijdbare whiteboardstandaard is vervaardigd uit metaal en wordt in 4 losse onderdelen geleverd (één pakket). De standaard bestaat uit two side supports (T-shape) with a size of 200cm high and 2 beams. The drawers are available in 4 different siezes, 120x90cm, 120x150cm, 120x200 en 120x240cm, each with a height of 120cm. Also we could offer you tailor made drawers. The drawers are dependent on the size whiteboard.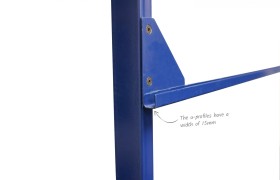 The stands will be delivered including 8 blind rivet nuts made of stainless steel to connect the 4 elements with each other, quickly and simple. The stands will be coated in RAL 9010 (white) but are also available and coatable in all other RAL colours. Because u-profile drawers are used, your visualisation board can easily be placed in the stand from the side. This u-profile is specially customised for the visualisation boards from TnP Visual Workplace and have a width of 15mm.
Are you curious about all the (tailor made) solutions we could offer you? We would like to give you advise about Visual Management. Please fill in the form below so we can contact you.

Team TnP Visual Workplace
2017 TnP Datasheet whiteboard stands
Step 1.

We kindly request you to fill in the form below as complete as possible, so we can contact you.

Step 2.

Our mobile stands are available in different standard sizes. In case you prefer a tailor made mobile stand, please tell us.

Step 3.

The whiteboard stands can be coated in all RAL-colours. Please tell us which colour you prefer.

Step 4.

Send your request. We will contact you within 24 hours to talk about your wishes.
Your details
Fields with * are required